04/09/2020
Sushant Suicide Case: Shovik and Samuel detained
New Delhi: There has been a stir in Mayanagari since the death of Sushant Singh Rajput. But instead of solving the mystery of Sushant's death, it is getting deeper. As the investigation progresses, new revelations are happening. Since CBI's entry in this case, the investigation of the case has increased and new accused are coming out in this case. The investigating agency is involved in removing the hair of the entire case. It is yet to be seen how many more big fish are going to come to the CBI in this investigation. Currently, NCB raids are on at Riya Chakraborty and Samuel Miranda's house. Riya's brother Shovik Chakravati and drug paddler Samuel Miranda have been taken into custody.
However, while the CBI is engaged in interrogation in its own way, the Narcotics Control Bureau and the Enforcement Directorate are also engaged in different angle investigations in the case. Explain that three agencies of the Center are investigating in Sushant case.
Meanwhile, big news is coming that the Central Agency of Narcotics Control Bureau investigating the drugs angle in Sushant Singh case has raided the house of Riya Chakraborty. It is being told that the NCB team is searching in the house of Riya Chakraborty in the Sushant Singh death case. Not only this, the search operation of the NCB team is also going on at the home of Samuel Miranda. Earlier, the NCB has arrested 5 people so far in the case related to the drugs angle of Sushant Singh case.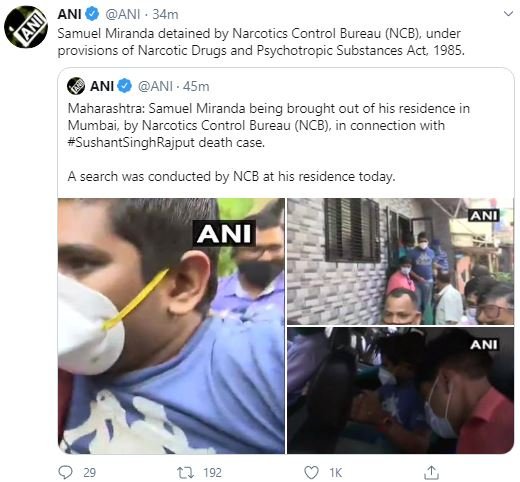 The Narcotics Control Bureau has taken Samuel Miranda into custody. According to the news agency ANI, Samuel Miranda has been detained by the Narcotics Drugs Bureau; Chhattdh under the provisions of the Narcotic Drugs and Psychotropic Substances Act, 1985.
The team of NCB reached Riya Chakraborty's house between 6.3 and 7.00 am. The raid continues for more than three hours. This morning, the NCB team has arrived to raid Riya's house. In addition, the home of Samuel Miranda is also running an NCB team search operation.
Earlier in the last two days, the father of the actress has been questioned by the CBI for about 18 hours. Riya has been questioned in this case for about 35 hours in the past. His brother Shovik Chakraborty has also been questioned by the CBI. But the investigating agency did not torture the siblings on Thursday. However Sushant's cook Neeraj Singh, domestic help Keshav and his friend Siddharth Pithani also appeared before the investigating agency.
On Wednesday, the Narcotics Control Bureau (NCB) said that it has arrested two alleged drug smugglers in connection with the aspect related to drug trafficking coming up in the Rajput death case. Officials said the agency is investigating Riya Chakraborty's brother and his alleged links with those arrested by the NCB.