16/02/2021
Sushant's co-star in 'MS Dhoni' Sandeep Nahar committed suicide posting a video on social media
Mumbai: 'MS Dhoni – The Untold Story' co-star Sandeep Nahar along with Sushant Singh Rajput was found dead at his Goregaon residence in Mumbai on Monday. Prior to his death, he posted a video on Facebook in which he blamed his wife for his death.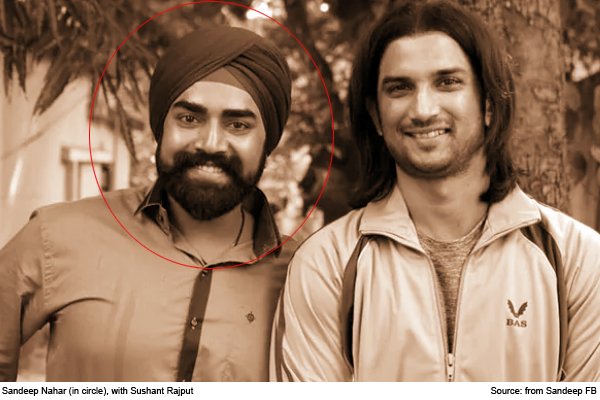 He has made many allegations against his wife and his mother-in-law. The police is investigating the case.
Mumbai Police said actor Sandeep Nahar died in Mumbai on Monday evening after posting a video and a 'suicide note' in which he allegedly blamed his wife and also mentioned the 'politics' in Bollywood. Have done
"30-year-old Sandeep Nahar, who appeared in films like Akshay Kumar's" Kesari "and Sushant Singh Rajput starrer MS Dhoni, was found unconscious at his flat in Goregaon in the evening, a police officer said. His wife Kanchan and his friends immediately took him to SVR Hospital, where doctors declared him dead. "The actor posted a 9-minute video and a 'suicide note' on Facebook.
In the video, the actor can be heard saying that he was 'disappointed' with the constant feud with his wife and that he and his mother-in-law were being harassed and blackmailed by him.
In the video, Nahar said, "I would have committed suicide long ago, but I chose to give myself time and hope that things would get better, but they didn't." Now I could not go anywhere. I do not know what will happen next from my step, but I am going through hell in this life.
He said, "I have only one request not to say anything to Kanchan (his wife) after I leave, but get him treated."
The police officer said Nahar made the video three hours before his death. The officer said that they are waiting for the post-mortem report to understand the cause of Nahar's death and how he died.
In a suicide note allegedly written by Nahar, he spoke of 'politics' in Bollywood, which he faced. In his 'suicide note' he has mentioned the lack of unprofessional work and emotion in the people working in the industry.
Police is investigating further.
(With agency inputs)
About Author
CoCo