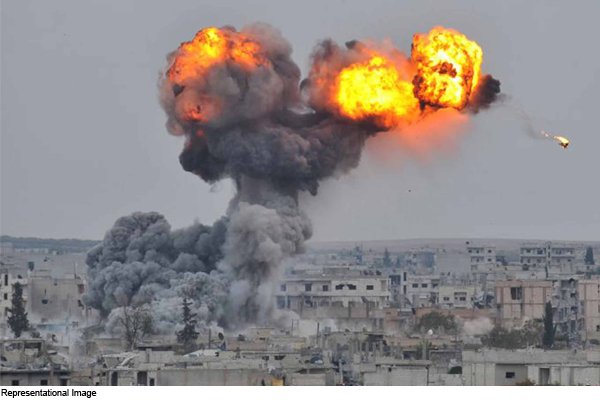 New Delhi: The US has claimed that seven senior al-Qaeda leaders were killed in Syria's airstrikes last week. The US Central Command said on Monday that the leaders of the organization were meeting near Idlib at the time of this attack. More than 50 al-Qaeda fighters have also been killed in this attack. Central Command spokeswoman Major Beth Riordan said the airstrike was carried out on 22 October. However, he has not given the names of the slain al-Qaeda leaders.
Riordan said, "The killing of those leaders of Al Qaeda will affect the ability of the terrorist organization to plot and carry out attacks around the world." "It will continue to target al Qaeda and other terrorist organizations, along with our allies and partners," Riordan said. Was attacked. More than 50 combatants have been killed in airstrikes on a training camp of rebels in northwest Syria.
Russia may support attack
Yusuf Hamood, a spokesman for the Turkish-backed opposition group, said the Russian air raid on Monday is believed to have been carried out by Russia. There is currently no statement from Russia. Hamood said that the airstrike targeted a training camp run by Falaq Al Sham of Idlib province. Falaq al Sham is one of the larger organizations of rebels. Turkey has long supported rebel forces in Syria and many of its fighters have been used in Libya and Azerbaijan. Britain-based Syrian Observatory for Human Rights, which oversees the fighting in Syria, has said that 78 fighters have been killed and about 90 fighters have been injured in the attack. Relief and rescue operations are still going on. The organization also feared that Russia may have carried out the attack. Russia is supporting Syrian President Bashar Assad.
Declaration of arms to Taiwan
Meanwhile, in the US, the administration led by President Donald Trump notified Taiwan on Monday about a plan to sell Harpoon missile systems for $ 2.37 billion. Hours earlier, China announced sanctions on US defense companies, including Boeing. Boeing is the main contractor company in the Harpoon deal. "The US has an interest in maintaining peace and stability in the Taiwan Strait, and the US considers Taiwan's security as crucial to the security and stability of the border Indo-Pacific region," the Foreign Ministry said.
He said that this sale would not change the military balance in the area. The harpoon is capable of attacking missile ships and land targets. Boeing said the missile is capable of carrying 500 pounds of armament. It is capable of targeting coastal defense sites, surface-to-air missile sites, aircraft, ships in ports, ports and industrial centers. Earlier, China said on Monday that it would ban top US defense companies, including Boeing and Lockheed Martin, for supplying arms to Taiwan. Chinese Foreign Ministry spokesman Zhao Lijian had said, "China has said on several occasions that selling American arms to Taiwan is in violation of 'Chinese policy' as well as defying sovereignty and security interests. We strongly condemn it. ' (With agency input)
Also read in Hindi: Syria: अमेरीकी हवाई हमले में अलकायदा के 7 खूंखार आतंकियों सहित 50 से ज्यादा लड़ाके ढेर