27/11/2020
Tejaswi made a very personal comment on Nitish, uproar in the assembly
Patna: The Governor's address was to be discussed in the Bihar Legislative Assembly today, but the top leaders of the ruling party and the opposition carried out personal attacks. RJD leader and Leader of Opposition in the Assembly Tejashwi Yadav made a strange accusation against Chief Minister Nitish Kumar in the Assembly and violated the dignity of the House. He has said that Nitish Kumar did not produce a second child for fear of having a daughter. The ruling MLAs created a ruckus on the allegation of the RJD leader. Earlier, Tejashwi Yadav said that Nitish Kumar is also an accused in the murder case. He also alleged a fine of Rs 25,000 in a case of copy right violation.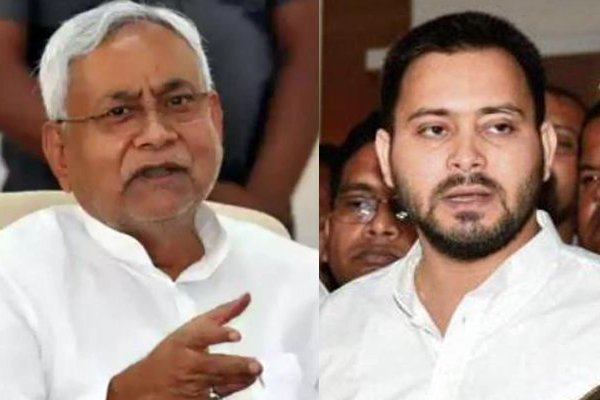 On the allegation of the Leader of the Opposition, Parliamentary Affairs Minister Vijay Kumar Chaudhary said that the Patna High Court has already dismissed the murder case and the court has made strict comments on these allegations. Subsequently, he requested the Speaker of the Assembly that these charges be dropped from the proceedings of the House.
After this, Tejashwi Yadav again stood in the House and started making other allegations on Nitish. Seeing this, Nitish Kumar also stood up. The CM lost his temper and said that you are in charge and my friend's son, whom I have made a leader. Then he became the Chief Minister. Angry, Nitish told the chairman, "It should be investigated and action will be taken against it. It is lying. My brother is the son of an equal friend, so keep listening to it.
On this statement of the Chief Minister, opposition members started creating a ruckus in the House. Seeing the uproar, the Speaker adjourned the house till the next day. Let us tell you that during the Bihar Legislative Assembly elections, Nitish Kumar attacked the Lalu family and said that Lalu Yadav gave birth to 9 daughters in want of a son. Nitish had said that Lalu Yadav does not trust daughters.
Also read in Hindi: तेजस्वी ने नीतीश पर किया बेहद पर्सनल कमेंट, विधानसभा में हुआ हंगामा