New Delhi: Baba's dhaba became famous overnight and there was a line of eaters. But the man, due to which this dhaba became so famous, Baba's owner Kanta Prasad has filed a complaint against him. Kanta Prasad, the owner of Baba Ka Dhaba at Malviya Nagar police station in South Delhi, has filed a complaint against Youtubera Gaurav Vasan for misappropriation of money.
Baba Ka Dhaba owner Kanta Prasad told news agency ANI that he has lodged a police complaint against Gaurav Vasan, who shot his video for the first time and posted it. He said that the funds raised to help him have been misused. He has accused Gaurav Vasan of criminal conspiracy, cheating, mischief, criminal breach of trust.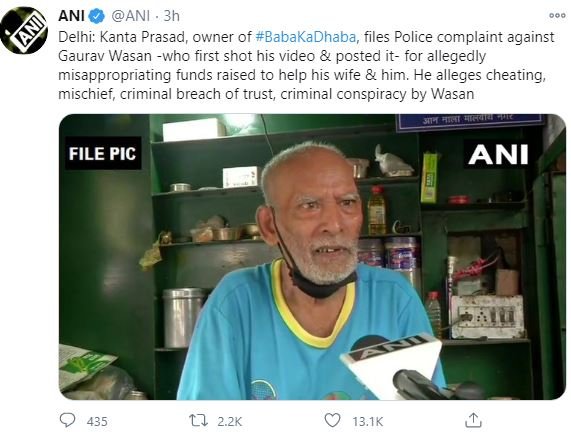 Recently he became popular after a video of Kanta Prasad (80) was shared on social media platforms. The video had become very viral on social media, in which he had expressed his anguish over the financial crisis due to the failure of the shop during lockdown.
He talked about his struggle in a video shared on YouTuber Vasan's social media account. In his complaint to the police, Prasad said that Vasan shot his video and posted it online and appealed to the public to give him money on social media.
He alleged that Vasan deliberately only shared his and his family / friends' bank details and mobile numbers with the donors and collected huge amount of donations through various types of payments without providing any information to the complainant.
Also read in Hindi: 'बाबा का ढाबा' के मालिक पहुंचे थाने, यूट्यूबर गौरव पर लगाए गंभीर आरोप