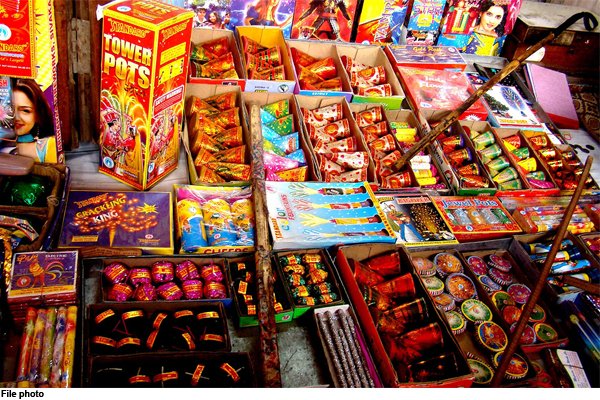 New Delhi: As the pollution level in the national capital continues to rise, the National Green Tribunal (NGT) has decided to impose a complete ban on firecracker sales in Delhi-NCR by 30 November. The ban will begin tonight (November 9, 2020). This decision has come at a time when the festive season has started and at this time the sale of firecrackers is at its peak.
A bench headed by NGT President Justice Adarsh ​​Kumar Goel said, "In cities where ambient air quality is moderate, only green crackers can be sold." Festivals like Diwali, Chhath, New Year and Christmas Eve etc. can be specified by the respective state. With this order of the Sixth, the ban on the sale of firecrackers has also been implemented in Gurgaon, Noida, Ghaziabad, Faridabad. The Haryana government had given an exemption for burning firecrackers for two hours, after which there was a confusion as to whether this exemption would be available in Gurgaon or not.
According to the NGT, there will be a complete ban on the use and sale of firecrackers in the states of the country in which air pollution remains in the category of 'bad'. In cities where ambient air quality is moderate, only green crackers can be sold. It is ordered to give only two hours to fire crackers.
Let us tell you that initially the demand for ban on firecrackers was raised due to increasing pollution in the national capital Delhi and its surrounding areas and due to the outbreak of Corona epidemic. When similar demands arose in other states, the NGT expanded the scope of the case and included all the states and union territories in the country.
The bench of NGT chairman Justice Adarsh ​​Kumar Goel on Thursday heard the fire crackers' association along with the pollution control board of the respective states and union territories before securing their order in the case. On behalf of the Indian Firework Manufacturers Association, Senior Advocate Mahesh Jethmalani argued. Senior advocate Raj Panjwani, as amicus, also looked into the pleas of the Center and CPCB.
The licensing unit of Delhi Police has canceled all licenses issued for selling firecrackers. A statement issued from the Police Headquarters on Sunday stated that all licenses to sell firecrackers in the capital have been canceled with immediate effect and further action will be taken as directed by the NGT. That is, even after this ban, if someone tries to sell crackers secretly illegally, then strict legal action will be taken against him.
Also read in Hindi: