23/04/2021
UP: Illegal construction being done in Vasundhara, officers bowed down in front of builder lobby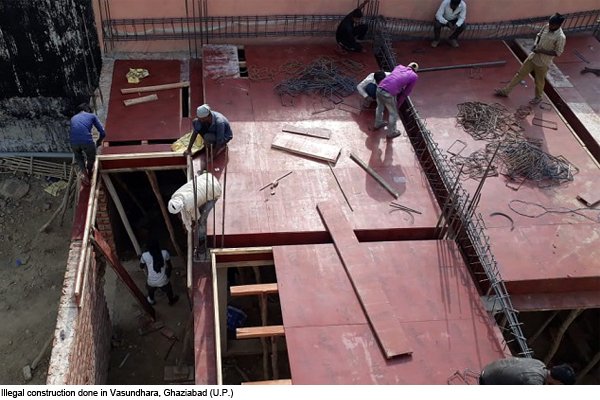 New Delhi: In the Vasundhara area of ​​Uttar Pradesh's Ghaziabad district, illegal construction is not being called at various places. Illegal construction is being done under the administration's nose. The Housing Development Council has also failed to curb illegal constructions. Here the builders are not deterred by illegal construction. Despite all the complaints, work is going on. People say that the Housing Development Council takes action only for the sake of appearance, in reality nothing is done.
Locals have accused the builder and some officials of Housing Development Council Construction Block-1 behind the illegal construction. When a neighbor asks the builder to stop illegal construction as opposed to the map, the housing development takes action, but the illegal construction is not stopped. Not only this, people allege that when they talk to the authorities in this regard, the officials send the people back by assuring them to take action. The locals have to say that even after the intervention of the MLA, the lice are not crawling on the ears of the officials of the Housing Development Council. This situation is when Uttar Pradesh Chief Minister Adityanath Yogi has given strict instructions to the authorities on illegal construction. But housing development officials are constantly engaged in illegal construction in defiance of their orders. This causes problems to the people around them, as well as loss of revenue to the government.
The Housing Development Council is not ready to take any action after the written complaint of the people. In a written complaint, illegal construction is being done in plot number 975 in Vasundhara Sector 3. People around this plot have said in a written complaint that the construction of this building is not being done according to the map. It has also been said in the complaint that the map of this plot has been made illegally by hiding the name of the former allottee.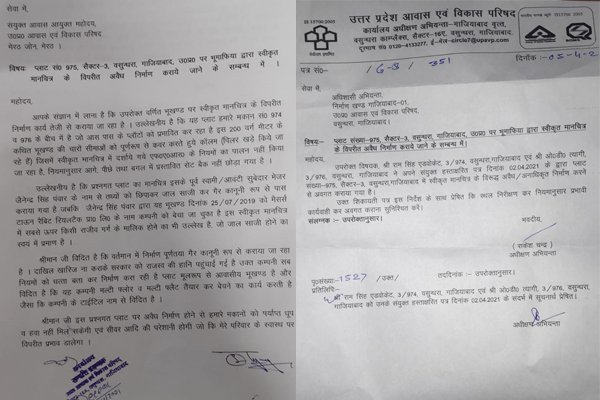 The complainant states that on the residential plot, multistory buildings are being constructed, which will not get enough sun and air to the people around them and also cause sewer problems. Due to which people living here will have to face the problem in the coming time.