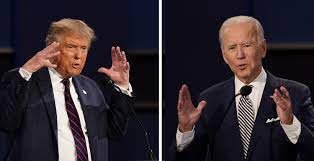 Washington, agencies. The counting of votes has started after the voting ends for the presidential election in the US. This time, people have voted overwhelmingly in the elections. Republican candidates Donald Trump and his Democratic rival Joe Biden are witnessing a thorn in a collision, with security arrangements being tightened in the face of fears of violence over the outcome. Security has been beefed up in key commercial areas and markets, including the White House.
Trump said thank you
President Trump has tweeted and thanked people amid counting of votes released in the US. Trump wrote, "We look in good condition across the country, thank you."
Biden overtakes Trump
The current US President Donald Trump is trailing Democratic candidate Joe Bidenjo Biden. Biden has 131 electorates and Donald Trump's account has 92 electoral votes. A 270 electoral votes are required to win the US elections.
Biden wins in New York
American Democratic presidential nominee Joe Biden won in Massachusetts, New Jersey, Maryland and Vermon, plus New York. US President Donald Trump won in Arkansas, Tennessee, West Virginia, Oklahoma, Kentucky and Indiana.
Thorn bump in florida
In Florida, US President Donald Trump and Joe Biden are in a close fight. There are 29 electoral votes here and it is very important for both to win this state. Trump has wins in Tennessee, South Carolina and Oklahoma. Joe Biden has won in New Jersey, his home state of Delaware, Virginia.