Patna: National Democratic Alliance (NDA) candidate Vijay Kumar Sinha on Wednesday won the election of Bihar Assembly Speaker. He defeated Awadh Bihari Chaudhary of the Grand Alliance. Awadh Bihari was in the fray against him by the opposition grand alliance led by the Rashtriya Janata Dal (RJD). The entire voting process was concluded amid an uproar by opposition leaders. 240 MLAs participated in the voting, out of which Sinha was supported by 126 MLAs, while Chaudhary was voted by 114 MLAs.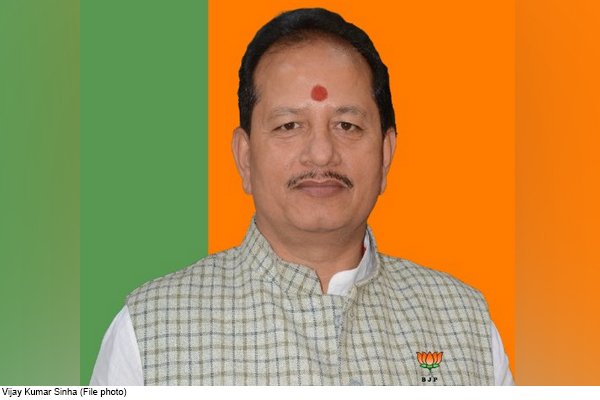 The Speaker's election was seen as the first test of power for both the ruling NDA and the opposition Grand Alliance in the newly formed Bihar Legislative Assembly. NDA candidate Sinha had already exuded confidence to be elected to the prestigious post.
Protem Speaker Jeetan Ram Manjhi asked the people in favor of NDA candidate Vijay Kumar Sinha to raise their hands for the Speaker's election, followed by the MLAs favoring Awadh Bihari. Meanwhile, the number of MLAs of both the parties was counted.
During the voting, opposition was opposed by the presence of Chief Minister Nitish Kumar, Minister Ashok Chaudhary, Minister Mukesh Sahni. The opposition says that these leaders are not members of the assembly, so they have no right to stay in the house. This demand was denied by the Protem Speaker. He said that the Chief Minister is the leader of the House, so it is not illegal to stay here from anywhere. Protem speaker Jeetan Ram Manjhi reminded that Manmohan Singh was always present in the Lok Sabha as a member of the Rajya Sabha but he was not involved in the election process. Similarly, Lalu Prasad Yadav used to be present in the Bihar Legislative Assembly with Rabri Devi as Chief Minister of Bihar Vidhan Sabha.
Protem speaker Manjhi was not ready for the secret vote even on the opposition's demand for lakhs. He said that there is no such provision in the Constitution that a secret ballot be held. Amidst all this, the opposition leaders continued to create a ruckus.
Also read in Hindi: विजय कुमार सिन्हा बने बिहार विधानसभा स्पीकर, अवध बिहारी को हराया