08/04/2021
Water taxis and ROPAX ferry services will soon be part of Mumbai's transport system
New Delhi: Minister of State for Ports, Shipping and Waterways (Independent Charge) Mansukh Mandavia chaired a meeting to review urban water transport projects in Mumbai, Maharashtra. Senior officials of the Ministry, President of Mumbai Port and officials of Maharashtra Maritime Board and other stakeholders were present in the meeting.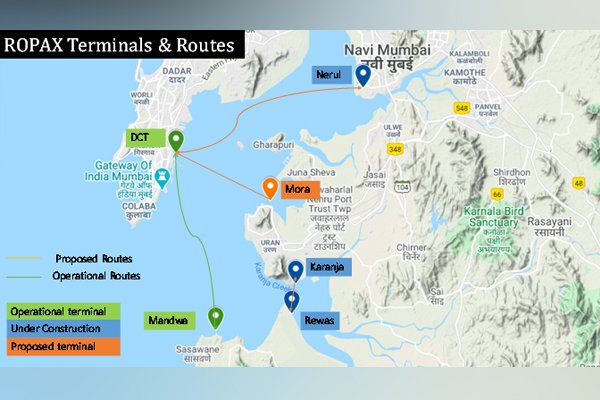 To reduce the burden of transport from congested roads of Mumbai and promote eco-friendly water transport system, 4 new routes of Ropax Ferry service and 12 new routes of water taxi service are planned to be operational by December, 2021. .
Presently, Ropax (roll on / roll off passenger) service is operated from Bhaucha Dhaka to Mandwa (Alibaug). Under this, the 110 km road trip has been reduced to 18 km via waterways and this has reduced the travel time of people traveling daily from 3-4 hours to just one hour. Considering the benefits of this ferry service, there are plans to introduce similar services on various other routes in Mumbai.
The opening of 4 new routes of Ropax Ferry service and 12 routes of water taxi service will greatly benefit the daily commuters of Mumbai. This will enable passengers to take pollution-free, peaceful and time-saving journeys and save their travel time and expenses and will also significantly reduce the carbon footprint. This will facilitate a large number of tourists and daily travelers to travel to every part of the city of Mumbai.
Mansukh Mandavia, Minister of State (Independent Charge) for the State of Ports, Shipping and Waterways said that the commencement of operations on the new waterways is an important step towards Prime Minister Shri Narendra Modi's approach towards using the waterways and connecting them with the economic development of the country. . Commencement of operations on all other coastal states with ropax service and many other routes of water taxi service will open up new possibilities and new opportunities for the development of a smooth eco-system and network.