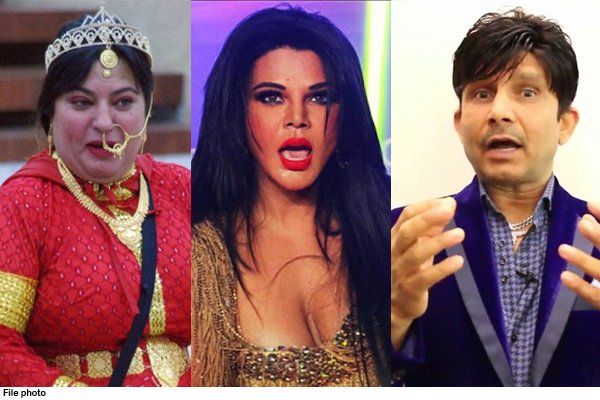 Everyone is eagerly waiting for Bigg Boss 14. Bigg Boss show is going to start soon on TV. The show is going to have its grand premiere on 3 October. It is expected that the makers of the show have made all the preparations to make the 14th season tremendous. By the way, if we talk about the last 13 seasons, some contestants have created a lot of uproar in the house of Big Boss. Explain that in the last seasons, the contestants had been abused in the past seasons for abusive, insulting and even beating. There was a lot of uproar in Big Boss's house. Even the host of the show had to come home to fight. Let's talk about the contestants of this show.
Dolly Bindra
This season of the show was the most upbeat, as the fighter Dolly Bindra was a part of season 4. There was no member at home with whom Dolly did not quarrel. The fight between Manoj Tiwari and Dolly over eggs was quite fun. During this time both of them had not missed even commenting on each other.
Rakhi Sawant
Talk of drama and the drama Queen Rakhi Samvat cannot be mentioned. Rakhi Sawant was a part of the first season of the show. During this time, cat fight was often seen between Rakhi Samvat and Kashmirira Shah. Other members of the household also used to support Kashmiri against Rakhi, which caused Rakhi's anger and anger.
Krk (KRK)
In the house of KRK Big Boss, there were contestants who were seen fighting the most since the entry in the house. When KRK became a part of 'Bigg Boss 3', seen in the film 'Deshrohi', he had a lot of quarrel inside the house. During the show, when his argument with Rohit Verma increased, he became violent and he threw a bottle at Rohit, after which he was taken out of Bigg Boss house as punishment.
Pooja Mishra
If you talk about the most disliked members in Bigg Boss season, then Pooja Mishra's name will come first. Please tell that Pooja, who was part of season 5, could not become a member of Mishra's house. She used to make a lot of trouble inside the house on every small thing, so she could not make any member of her house.
Rahul Mahajan
Before Rahul Mahajan's son, the son of late BJP leader Pramod Mahajan, came into Bigg Boss house, he was involved in controversies due to drugs. While inside the house, Rahul used to be openly with Mandira Bedi and Payal Rohatgi as Prem Kanhaiya, but he did not stay behind in creating a ruckus. Along with Ashutosh, Rahul had tried to cross the wall of the house many times, due to which he had to face punishment from Bigg Boss many times.
Ijaz Khan
Ejaz Khan was also one of the contestants in the house of Big Boss. Aijaz, who was a part of Season 8, had a fierce feud with Ali Mirza. After which he had to leave the house.
Imam Siddiqui
If Imam Siddiqui is said to be a color-changing and quarrelsome member in the history of Bigg Boss, then there will be no exaggeration. The Imam is considered to be the most controversial wild card contestant in 'Bigg Boss' history by far. Urvashi Dholakia, who was the winner of that season, was greatly disturbed by the Imam. He did not desist from making lewd and dirty comments on the private lives of his fellow contestants.
Kushal Tandon
Kushal Tandon's anger was always on his nose, which caused big furore in Bigg Boss house. Kushal Tandon was a part of season 7. A dispute between VJ Andy and Kushal was seen.
Shilpa Shinde, Vikas Gupta
In the 11th season, there was always a rift between Shilpa Shind and Vikas Gupta, the two did not like each other at all. Even the two did not halt from making lewd comments on each other. Vikas's vicious mind had troubled many members of the household. Hina Khan and Shilpa Shinde often had a fierce fight.
Sidharth Shukla, Paras Chhabra and Asima Riaz
Season 13 of Bigg Boss proved to be the most popular and raunchy show. The feuds between Siddharth Shukla, Paras Chhabra and Asim Riaz are not even counted. In all three, you have reached many times from me to me. In the 13th season, there were no rules that were not broken.
Also read in Hindi: Bigg Boss: बिग बाॅस के घर में कौन थे सबसे लड़ाके सदस्य, आइये जानते हैं…