New Delhi: The Greater Hyderabad Municipal Corporation elections to be held in Hyderabad, the capital of Telangana, are seen in a different color this time. Prior to this election of the local body, the BJP has exerted its full force. BJP's star campaigners are reaching out to campaign in Hyderabad local body elections. Before the elections in Hyderabad, CM Yogi arrived here on Saturday for campaigning and all areas of the district were seen as saffron.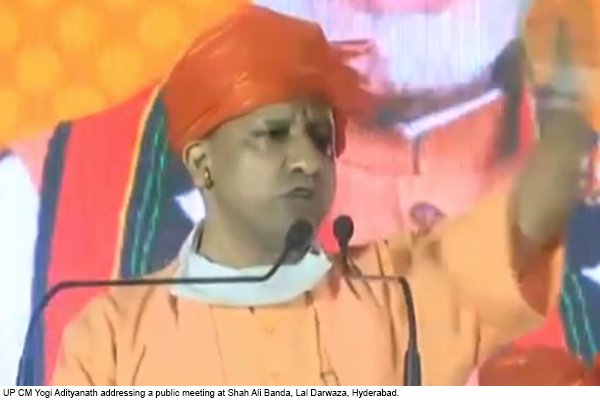 Uttar Pradesh Chief Minister Yogi Adityanath reached Hyderabad on Saturday. There was a tremendous reception in the roadshow. He was strongly welcomed amid slogans of 'Ram Lakshman Janaki, Jai Bolo Hanuman Ki' and 'Yogi-Yogi', 'Bharat Mata Ki Jai' and 'Vande Mataram'.
Devastating the fortress of AIMIM chief Asaduddin Owaisi, the UP CM took out a huge road show with all roads and buildings showering flowers with large numbers of people with saffron-colored banners and posters. During this time Yogi was riding in an open bus.
The Chief Minister of Uttar Pradesh went for a road show in Jeedimetla, Hyderabad in support of the Bharatiya Janata Party candidates in the local body elections. CM Yogi's unprecedented reception was significant from the point of view that the area of ​​the roadshow was in the parliamentary constituency of Owaisi, president of All India Majlis-e-Ittehadul Muslimeen.
BJP workers and the general public were carrying placards of 'change Hyderabad'. On the way, women and children also stood with placards in their hands. The UP CM started his road show after paying floral tributes to Baba Saheb Bhimrao Ambedkar.
This is the first time the BJP is taking the Greater Hyderabad Municipal Corporation elections so seriously. Experts believe that the Congress has slipped to third place after TRS. It is believed that BJP will do well in the local body elections this time and the party's prospects will be further strengthened by the presence of Yogi Adityanath.
Also read in Hindi: Hyderabad: ओवैसी का गढ़ हुआ भगवामय, रोड शो में पहुंचे योगी आदित्यनाथ