22/06/2021
Yogi govt will deliver medicine to every house of the state from June 27
Lucknow: Along with corona, the state government has made great preparations to tighten the noose on seasonal diseases that occur after the rains. Under this, a special campaign has been started to distribute medical kits to every child below the age of 18 years. To give impetus to the campaign, there are 60569 monitoring committees in rural areas and 1,2006 in urban areas. More than 4 lakh members of the committee have been deployed in rural areas. On Monday, Chief Minister Yogi Adityanath has instructed the officers of Team-9 to distribute medicines from door to door from June 27. He has appealed to the local public representatives of all the districts to cooperate in the campaign. Every medical kit has also been asked to be monitored.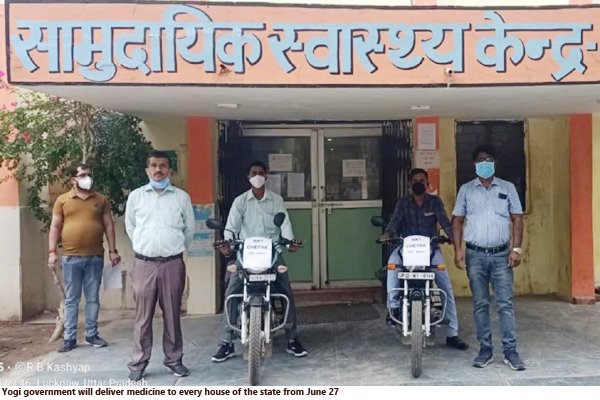 The government is making efforts in every direction to save the state from diseases. Special arrangements have been made in hospitals for children. For their better treatment, the number of beds in all hospitals and medical colleges has been increased. 3011 PHCs and 855 CHCs of the state have been equipped with all state-of-the-art resources. The medicines available in the medical kit will prevent the symptoms of Kovid-19 as well as protect children below 18 years of age from seasonal diseases. With the onset of the monsoon season, diseases like Encephalitis, Dengue, Chikungunya, Malaria and other diseases spread rapidly and a large number of people suffer from these diseases. The government has already made elaborate preparations for this.
The effect of the government's continuous efforts to make the state healthy is that UP has got rid of the global epidemic like Corona sooner than other states. There are many districts of the state in which not a single case of corona has been reported in a week. Big decisions taken at the time of CM Yogi Adityanath have succeeded in defeating the disease. Not only this, the state has also become number one in vaccination as compared to other states. Monitoring committees, reaching every street and door to door from village to city, have done a great job of taking the benefits of the government's schemes to every person. This is also the reason that the government has also entrusted the responsibility of distributing medical kits to the members of the monitoring committee.