04/07/2021
Cricketer Harbhajan Singh will debut on the silver screen with the film 'Friendship'!
MUMBAI: Today, on the birthday of Harbhajan Singh, Toughened Studios Limited has announced his silver screen debut with the movie 'Friendship'. Featuring world cricket legend Harbhajan Singh, action king Arjun and Losaliya in lead roles, the film is going to be a complete entertainment package. The makers have shared an interesting poster featuring Singh and his friends in 'Raapchik' avatar as well as a lyrical video which has left us anticipating more.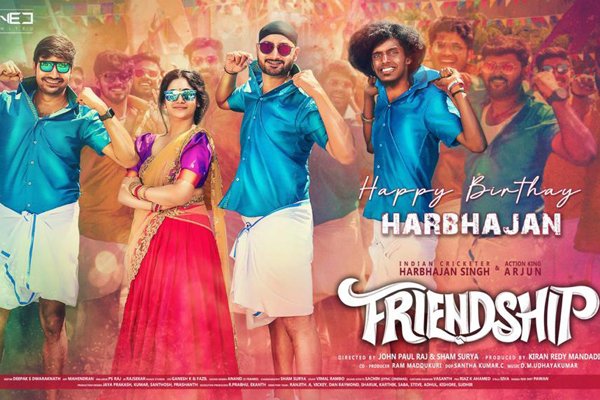 Harbhajan Singh has earlier played a small role and made guest appearances but will be seen in a full-fledged role in 'Friendship'. Uttar is extremely popular especially in Punjab and his fame is unbelievable because of his cricketing career, but since 2018 his fame has expanded across India due to his smoky performances in the Chennai Super Kings IPL team. The film presents friendship, action, sports and emotions with social content.
Beginning first year mechanical engineering student, Bhajji along with his group of friends cleverly manages to avoid ragging by the seniors. What will happen next remains a mystery that has yet to be uncovered as we slowly, deeply descend into this rollercoaster ride of friendship. The film has a strong social message and it is extremely interesting that the announcement has already got us all excited!
The film to be released this year will be simultaneously released in Hindi, Telugu and Tamil.
Helmed by Indian cricketer Harbhajan Singh and action king Arjun, presented by Toughened Studios Ltd., Friendship is directed by John Paul Raj and Sham Surya, produced by Kiran Reddy Mandadi and co-produced by Ram Maddukuri.