New Delhi: Kangana Ranaut today met the Governor of Maharashtra amidst an altercation with the Shiv Sena. After meeting, he tweeted and wrote, "A while back I met the Governor of Maharashtra, Mr. Bhagat Singh Koshiyari. I explained my point to them and also requested that justice be given to me as it would restore the confidence of the common citizens and especially the daughters in this system. " When she came out after meeting the Governor, she took lotus in her hand. It was a flower. People are guessing from this that Kangana can join BJP in the coming time.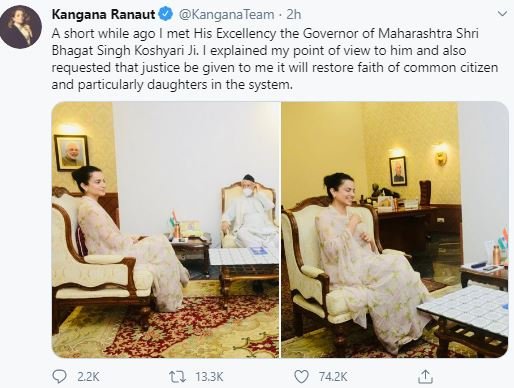 On the other hand, Shiv Sena MP Sanjay Raut while speaking to a newspaper on Sunday said that "it is unfortunate that the BJP is supporting actress Kangana Ranaut despite comparing Pakistan-occupied Kashmir with Mumbai, and also with Bihar elections It was also monitored. In his weekly column Rokathok in the army mouthpiece 'Saamana', Raut also claimed that there is a systematic effort to reduce the importance of Mumbai, and that constantly maligning the city is part of that conspiracy. "
He said that the BJP is eyeing Bihar Election, where it is targeting Kangana in Sushant Rajput case. He is eyeing the Upper Cast Rajput and Kshatriya votes in Bihar.
Kangana responded to this by tweeting, "Wow !! It is unfortunate that the BJP is protecting someone who busted the drug and mafia racket, instead the BJP should do that Shiv Sena goons break my mouth, rape me or punish me openly, no Sanjay ji? How do they protect a young woman who stands against the mafia !!! "
Also read in Hindi: कंगना मिली महाराष्ट्र के राज्यपाल कोशियारी से, संजय राउत ने कहा दुर्भाग्यपूर्ण