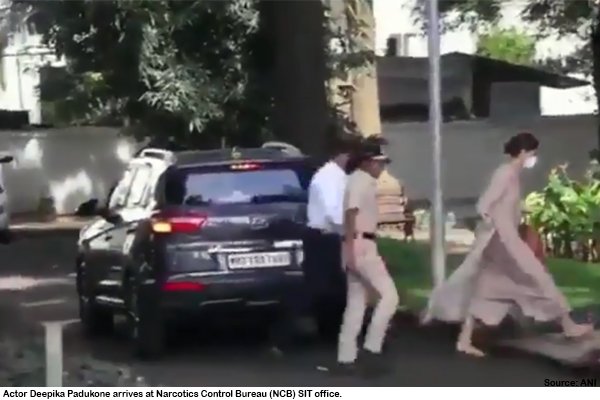 New Delhi: The angle of drugs involved in the Sushant Singh Rajput death case has badly affected the entire Bollywood. Many big names have appeared in this since the drugs angle and many more are yet to come. In this episode, actress Deepika Padukone has reached the Narcotics Control Bureau office in Mumbai for questioning. Also, his manager Karisma Prakash and actresses Shraddha Kapoor and Sara Ali Khan will also be questioned. Please tell that Ranveer Singh had requested NCB to let him stay with Deepika during interrogation.
Deepika reached the NCB office by car alone at 9.45 am. Inquiries are still going on. The officer said that the three actresses Deepika Padukone, Sara Ali Khan and Shraddha Kapoor were called by the investigation team of NCB on Wednesday. According to the officer, the Mumbai Police has deployed adequate security outside the NCB office.
Sara Ali Khan and Shraddha Kapoor also have to reach the NCB office. Rakulpreet Singh was questioned earlier on Friday. According to reports, Rakulpreet beheaded Sara, Rhea Chakraborty for the charge. At the same time, Kshitij Prasad of Dharma Production is being questioned for more than 20 hours. He was detained on Friday night.
NCB will again interrogate Deepika's manager Karishma. Karishma has left for the guest house. According to the information, Karisma and Deepika Padukone will be questioned face to face today. According to reports, Karisma has accepted the chat, but she is not giving the right answer to the question of drugs.
At the same time, Kshitij Prasad of Dharma Production has named many people, including many Bollywood stars. On Friday, Rakulpreet Singh also named Kshitij Prasad in questioning. Rakulpreet has told NCB that Horizon provides drugs to many people.
Also read in Hindi: NCB ने शुरू की दीपिका से पूछताछ, हो सकते हैं कई और खुलासे