13/03/2021
Rana Daggubati urged the audience to experience 'Hathi Mere Sathi' in the theater!
Mumbai: Eros International's upcoming film Hathi Mere Saathi is an example of cinematic excellence in every sense.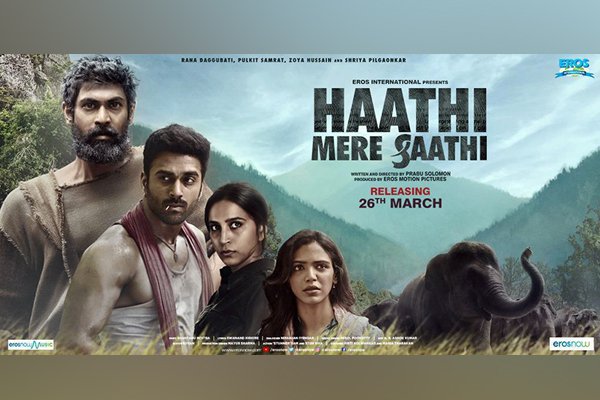 Apart from other starred actors including Rana Daggubati, Pulkit Samrat, Shriya Pilgaonkar and Zoya Hussain, the film is directed by renowned filmmaker and wildlife expert Prabhu Solomon and composed by Shantanu Moitra for the film. But in bringing the film experience to a much higher level, Resul Pookutty's background score and A.R. Ashok Kumar's cinematography is amazing. The entire film is shot in the deep dense forests of Kerela and Thailand. And, the real location with real elephants is the highlight of the film.
Rana, who hails from a film family and has seen many aspects of filmmaking closely, says Hathi Mere Saathi is a film that should be enjoyed in theaters. Saying that the film is watchable in the theater, Rana says, "The story of Hathi Mere Saathi is very intense. The film has a whirlwind of emotions and is a film that can only be felt on the big screen."
Talking about theaters, Rana said that the films of the South which have been released after the lockdown have performed tremendously at the box office. Theaters are operating under strict Kovid protocol and the audience has also followed the guidelines with utmost seriousness. South films have performed well at the box office and Rana is confident that the north box office will follow the same path. He says, "Like South Industry, I strongly feel that our film has the potential to bring Hindi audiences to theaters."
Talking about the cinematic talent of Hathi Mere Saathi, Academy Award winning sound designer Resul Pookutty has given a world class background score for this jungle drama. A laptop or a mobile phone cannot do justice to the sound experience that Resul has created, says Rana.
Elephant Mere Saathi is a story that traces the story of a man (Rana Daggubati) who spends most of his life in the jungle while protecting the ecosystem. It is an endless story of the relationship between a man and an elephant, which the audience eagerly awaits. The first 2021 trilingual film, Aranya in Telugu and Kadan in Tamil, will be released.
It will be a hat-trick for Rana as Hathi Mere Saathi is his third trilingual film after the acclaimed Bahubali series and The Ghazi Attack.
The film is being produced by Eros Motion Pictures, a division of Eros STX Global Corporation, an established name in the Indian film industry with a track record of over 40 years.
This pan-India multilingual film will be released in theaters near you on 26 March 2021.