21/03/2021
Riddhi Dogra and Suhas Ahuja enhanced the set of 'Kundali Bhagya' and 'Kumkum Bhagya'
Mumbai: Riddhi Dogra and Suhas Ahuja, the cast of the popular series' The Married Woman, who were tasting success, were recently seen adorning the sets of audience favorite shows' Kundali Bhagya 'and' Kumkum Bhagya'.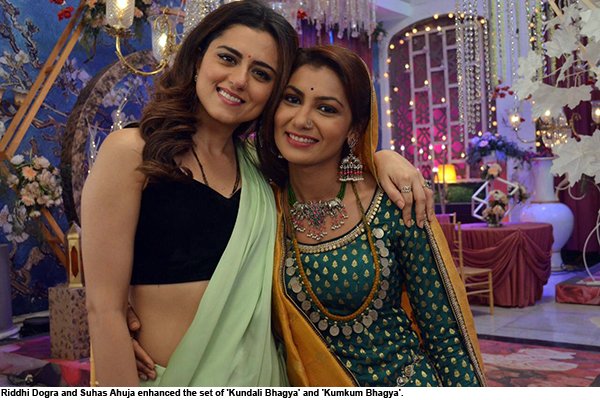 Now that the show is getting huge success, both Riddhi and Suhas have visited the set of the highly popular television show produced by Balaji Telefilms.
Riddhi and Suhas spent a fantastic time interacting with other actors including their show's characters – Aastha and Hemant, Pragya of the television show Kumkum Bhagya. Also, they were also seen playing Holi with each other on the set of Kundali Bhagya.
On this occasion, the cast of Riddhi and Kumkum Bhagya have shot a splendid episode, while Riddhi and Suhas have shot two special episodes for Holi special episode in Kundali Bhagya. Recently revealed photos, it is clear that everyone has enjoyed a lot during the shooting of this special episode. The actors of the television show have also congratulated Riddhi and Suhas for the great performance and success of 'The Married Woman'.
Released on Alt Balaji on 8 March on International Women's Day, 'The Married Woman' has been receiving incredible reviews from audiences and critics alike for its unconventional storytelling and spectacular performances from around the world.
Based on the famous writer Manju Kapoor's best-seller novel 'A Married Woman', the show is well appreciated for its brilliant performances in Riddhi Dogra and Monica Dogra along with other decisive actors.
Available for streaming on Alt Balaji, the show is a must-watch.