25/03/2021
Saptarshi Sarkar of 'Human' won the National Award for 'Best On-Location Sound Recordist'!
Mumbai: Popular sound designer Saptarshi Sarkar, who has worked in a number of feature films, short films, web series and ad films, recently won her first National in the category of 'Best On-Location Sound Recordist' for the Hindi film 'Mystic' Has won the award.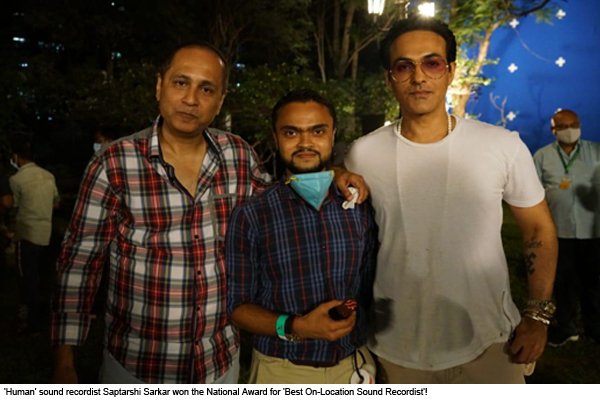 Saptarshi is currently working as a sound recordist in Vipul Amritlal Shah's much awaited web show 'Human', an emotional drama about the world of human drug testing and medical scams. The show has many talented actors from television and film industry, including Shefali Shah, Ram Kapoor, Kirti Kulhari, Seema Biswas, Vishal Jethwa (Mardaani 2 fame), Mohan Agashe, Atul Kumar (Talwar fame) Aditya Srivastava (CID and Super 30 Fame) and Sandeep Kulkarni (Dombivali Fast Fame) etc.
Talking about Saptarshi's recent victory, Vipul Shah informs, "While he is working, you cannot even notice his presence on the set. He works in his space very calmly but effectively. Let's do … Even in the toughest locations, he captures real sound brilliantly and we don't have to dub. This feature has created tremendous value in our shoots. When we I had heard a few sequels when I started shooting and it is absolutely fantastic the way he captured it in that noisy environment. He deserves all kind of respect and my heartiest congratulations to him. "
The cast and crew along with directors Vipul Shah and Mozej Singh, makers of 'Human', celebrated Saptarshi's stunning victory by cutting the cake on the set of the much-awaited show.
The veteran sound recordist has a strong creative and exceptional skill in the field of sound design and audio post and has worked in popular films like Yash Raj Films' Hiccup and 'Meri Pyari Bindu', 'Fukrey Returns' and' Badla '.