13/03/2021
Supaul Suicide: 5 people of a family hanged themselves in Supaul, police investigating
Patna: The shocking news is coming out from Supaul in Bihar. Where 5 people from the same family committed suicide by hanging themselves under suspicious circumstances. The incident is reported to be late Friday night.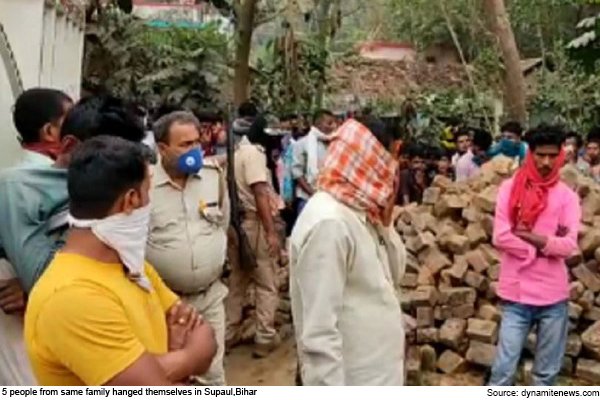 According to Hindustan, two of their daughters and a son were found hanging in a room hanging in Gaddi ward four of Raghopur police station area. As soon as the incident is known, there has been a stir in the surrounding area. A crowd of people gathered at the scene. The police is investigating the matter as to what happened eventually that the whole family had to be hanged.
According to sources, the house of Misri Lal Sah (50) of Raghopur Panchayat smelled a lot. The villagers informed Taslim, the head of the village. As soon as the chief came to know about this, he immediately reached there with some people. There was a lock from outside the house. People broke into the house and broke the lock. In one room of the house which was locked from inside, five bodies were hanging. Seeing this shocking manger, the people's soul trembled. Immediately the incident was reported to the local police.
In the interrogation of the police, the villagers and the chief said that the family had no enmity with anyone. The entire family used to sell coal, but the lockdown brought the entire business to a standstill. The family had also stopped meeting people nearby. The villager said that financial constraints could be the reason behind the suicide.
As soon as the information of the incident was received, the top police officers reached the spot and inspected the scene of the incident. Prima facie the police is considering it as a case of mass suicide. However, it is not yet clear what causes the whole family to hang. According to police, the incident is a suicide and something can be said only after the investigation is completed.