06/01/2021
This issue is not about Kangana, it is about 'Godi Media': Urmila
Actress Kangana Ranaut and actor-turned-politician Urmila Matondkar recently made an argument on social media after Kangana hinted that Urmila bought office space in Mumbai for Rs 3 crore after joining Shiv Sena.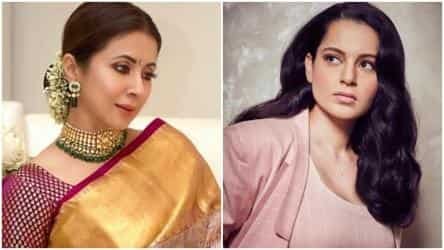 Urmila returned with a video message, in which Kangana asked the Bollywood industry to reveal the names of people she wanted to report to the Narcotics Control Bureau (NCB).
This issue has become related to his tweet, when in reality the issue is about 'Godi Media', which told me the story of buying 3 crore rupees of office space. The report quoted sources as claiming that I was not available for comment, while I have a screenshot of the reporter calling me at 9pm Saturday when the story is scheduled to be published on Sunday morning.
By the time I replied, I was told that it was too late and the news had already gone to print. The amount I bought office space for was the headline, which was not really needed. Other publications then took up this. And after this, what she (Kangana) tweeted was extremely insulting, and she has done so in the past as well. The 20-25 cases she was talking about is not because she was trying to "please BJP" in her own words, but it's because she was spreading venom about those people, Who have now reacted to that. I would also have known that it was not a direct attack. How is it fair that your efforts are efforts and everything else is nonsense?
IT trolls pick up such tweets and then become fearless. Unfortunately, in this country, the media is completely sold out. Even the last time I did an interview, my only issue was not his, but where we stand as a country and where the fourth pillar of democracy stands. Are they going to make this special woman a barometer of the country? Therefore, it was necessary for me to stop this and also bring the attention of the people to it that it has been provided with Y-Plus security with our money. This is a lot of money. If she claims to be at the top of her game, don't you think she should pay for her safety? Don't you think that we should ask this question to the citizens of the country? And where is the list on which he was given this protection?
It is one of the largest industries in the world. So let's not make it about the four or five people he has an issue with. You can't possibly bring the entire industry down for that. Are you trying to tell me that everyone in the industry is involved in drugs from morning tonight? This is such a hardworking industry. With so many brilliant technicians, everyone from screenwriters to actors inspires cinematographers to work hard and live a life. So my only thing is, yes, like many industries, there are problems to an extent. There is a need to work on it. That is why I said that if you have claimed the need to give these names to NCB so that they can do their work.