New Delhi: In the Kashi Vishwanath Mandir-Gyanvapi Masjid case, the Muslim side, in a unique display of communal harmony, has handed over 1700 sq. The land adjacent to Gyanvapi Masjid has been transferred to Kashi Vishwanath Temple Trust. In return, the temple administration has given 1000 square feet of land to the Muslim side at some distance from Gyanvapi Masjid and Kashi Vishwanath.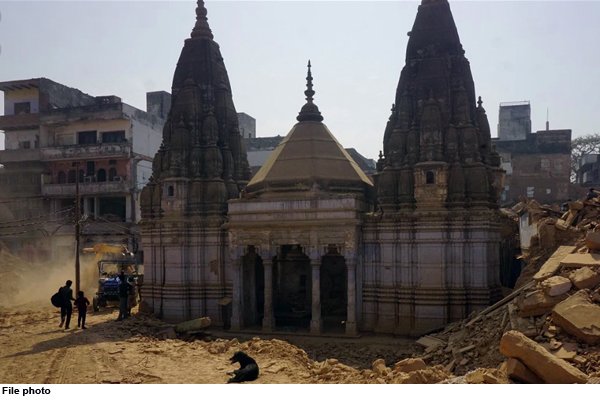 SM Yasin, Joint Secretary, Anjuman Intajamiya Masjid, told that the matter is still in the court. The government is building the corridor, they are demanding land acquisition. So we consulted our people and the board has approved the decision to allow 1700 square feet of land for Kashi Vishwanath corridor.
Earlier this year, a Varanasi court allowed the Archaeological Survey of India to conduct a survey of the mosque located near the Kashi Vishwanath temple. The Gyanvapi Masjid Management Committee has reportedly opposed the move in the High Court. The court was hearing the ongoing dispute between the Kash Vishwanath Temple and the Gyanvapi Masjid, the court also directed the formation of a five-member committee with archeological experts.
This matter is barred by the Places of Worship (Special Provisions) Act, 1991. The Place of Worship Act was upheld by a 5-judge Constitution Bench of the Supreme Court in the Ayodhya verdict. Uttar Pradesh Sunni Central Waqf Board chairman Zufar Ahmed Farooqui had then said that the status of Gyanvapi Masjid was beyond question.
The petitioner for the temple, Vijay Shankar Rastogi, has claimed that the Gyanvapi Mosque was built in 1669 by Emperor Aurangzeb after the demolition of the Kashi Vishweshwara temple in the city. The petitioners have claimed that the land on which the mosque is located belongs to Hindus.
Also read in Hindi: काशी विश्वनाथ मंदिर गलियारे के लिए, मुस्लिम पक्ष ने 1700 वर्ग फुट जमीन दी