29/07/2022
The 'scapegoat' or the mastermind of the 1992 scam? Harshad Mehta's fall from grace still haunts the family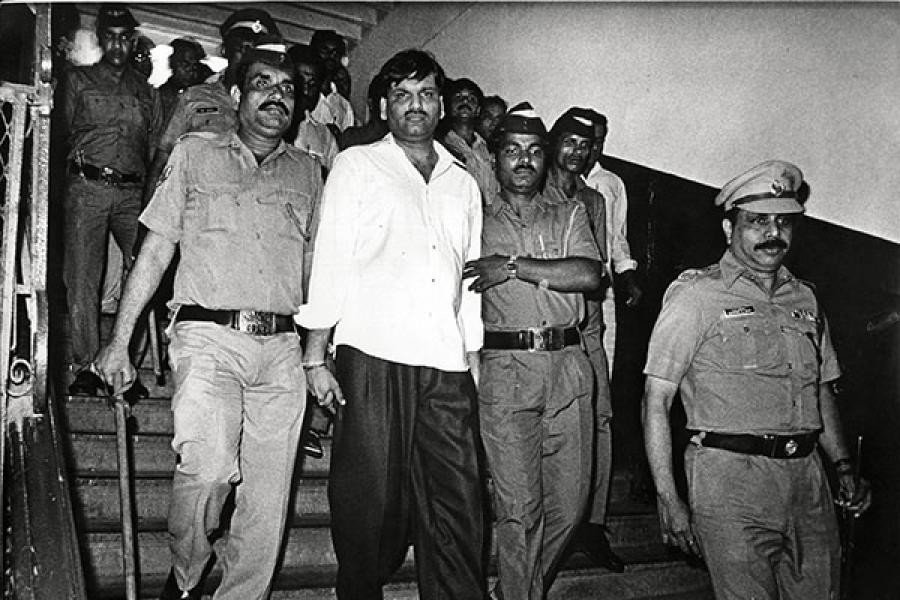 Earlier this month, Jyoti, wife of former stock market 'big bull' Harshad Shantilal Mehta, and her family launched a website https://www.harshadmehta.in/ — to defend her late husband who died in police custody on 30th December 2001. Through this website, the widow of the late stock broker has claimed that her husband died due to medical negligence. She has also accused the system of 'group punishment' that she and other members of Harshad Mehta's family have faced in last 30 years.
The aim was to publicly share the alleged harassment that she and her family have been facing from the Income Tax Department for nearly three decades after her husband's death, while winning over 1,200 cases filed against her in various judicial fora.
Most of these cases are the result of the famous-near-Amar-scam of 1992, for which Harshad Mehta is an accused. What he did in 1992 was almost unimaginable.
Without the money to buy stock in the market, he made millions, and in the process raised the stock prices of some of the most prominent listed companies. He found loopholes in the system to clear the scam.
Simply put, a trader on the Bombay Stock Exchange (BSE) can place a buy order on Monday and square off the position between Tuesday and Thursday. Friday will usually be the settlement day, when the order is completed. Mehta rigged the securities market with the connivance of some banks and issued fake Bank Receipts (BRs) in connivance with some.
Click following links for more about family and associates of Harshad Mehta.
Scam 1992: The Harshad Mehta Story is predicated on then his lifetime
Here's what Big Bull Harshad Mehta's family is up to these days
Here's what Big Bull Harshad Mehta's son is up to these days
Here's what Big Bull Harshad Mehta's wife is up to these days
Here's what Big Bull Harshad Mehta's heroin Sucheta Dalal is up to these days
Here's what Big Bull Harshad Mehta's brother is up to these days
He used them to raise money from other banks to invest in the stock market. Banks would lend him money because they thought the receipts were backed by underlying government securities. In this way, he manipulated the stock market, amplifying it up to four times in a short period of time. The then Reserve Bank of India (RBI) deputy governor R. A committee headed by Janakiraman had estimated the size of the scam to be Rs 4,024 crore.
Had he been alive, he would have been 68 years old today. An unforgettable name Harshad Mehta's name resonates with every new and young investor who enters the stock market. He had earned the famous nicknames 'Big Bull' and 'Amitabh Bachchan' of the stock market. He has a name that divides opinion: some still view him as the mastermind of the financial markets, while others later leave with Flotsam and Jetsam, viewing him as a scammer.
Born on 29 July 1954 in a middle-class Gujarati family in Paneli Moti village of Upleta tehsil of Rajkot district of Gujarat, Mehta spent his childhood in the suburbs of Borivali, Mumbai, where his father Shantilal Mehta ran a textile business. A few years later, his family moved to Raipur in Chhattisgarh before returning to Mumbai in the 1970s.
A cricket enthusiast, Mehta was part of his school cricket team in Raipur. He graduated in commerce from Mumbai's Lala Lajpat Rai College in 1976 and then worked for a few years in various jobs – sometimes as a cement contractor or hosiery salesman. Other times as an insurance clerk or diamond sorter, and finally as a jobber. He obtained a stock broking license in 1984, later started his own brokerage firm named Grow More Research and Asset Management.
In just two years, Mehta was actively trading in the stock market. Till 1992, Mehta was one of the highest income taxpayers in India.
From where he was securing the money to invest in the shares, no one had a clue. Mehta took over the closed companies, pumped in cash and increased his shares in the market. His growing popularity in the markets began to attract media attention.
Mehta's attraction grew to such an extent that investors blindly followed him-wherever he invested. Giants like Associated Cement Company Limited (ACC), Southern Petrochemical Industries Corporation, Videocon Industries and Apollo Tires were some of his best picks, which are relevant even in today's stock market.
A stockbroker working in a firm that did business with Mehta, said on the condition of anonymity that Mehta managed to persuade financial institutions to buy shares on which he was bullish.
"Harshad had close links with the power corridor in Delhi and through that channel he could persuade a lot of banks and financial institutions to give money to invest in shares for immediate profit," the broker said. At that time, banks were not allowed to invest directly in equity markets.
Mehta once famously said, "India is the turnaround scrip on the Global Stock Exchange. We are a product of a historic time."
He was also shown by a television channel feeding peanuts to bears at the Mumbai Zoo, marking his victory over the stock market's 'bear cartel' – a syndicate of banks and brokers that, according to Mehta, monopolized the market was. In an interview with India Today, Mehta called him "the prophet of the gloom", whose sole aim was to eliminate him from the market. A bull market occurs when securities are rising, whereas a bear market occurs when securities are falling for a sustained period of time.
Harshad Mehta's fall from grace
Noted journalist Sucheta Dalal, who cracked the bank security scam story, explained in her book The Scam: From Harshad Mehta to Ketan Parekh that the money Harshad Mehta acquired to pump into the stock markets was actually banks and financial institutions. came from.
And at the center of this scam was the State Bank of India (SBI), which colluded with Mehta and gave him a fund of Rs 500 crore. This is when Mehta did not have the credibility to repay it. According to Dalal, the Vigilance Department of SBI and its then chairman DN Ghosh had called Mehta to his office to recover the money.
SBI had raised the fund because Mehta had promised that he had bank receipts worth Rs 500 crore, backed by government securities, against which the money could be raised. Mehta took Rs 500 crore, invested it in stocks he wanted people to follow, thereby driving up the prices of that stock and making an immediate profit from the increase. He would have taken this profit and invested in more shares.
While Rs 500 crore was a transaction from SBI, the actual amount of money secured from banks and financial institutions was over Rs 4,000 crore.
Mehta's alleged fraud could not remain a secret for long – the scam came to light in 1992 when SBI reported a shortfall in government securities. As a result of this disclosure, the stock exchange fell by a whopping 72 percent, and the market was in a bearish phase for two years.
Mehta was arrested by the Central Bureau of Investigation (CBI) on 9 November 1992 on charges of "misappropriating 2.8 million shares of around 90 companies" and was subsequently banned from trading. Mehta continued to say that he was being used as a "scapegoat to serve hidden purposes", resulting in "hour-by-hour living". Although he made a brief comeback as a stock market 'guru' in 1995, Mehta was jailed again in 1999. He died of heart failure in 2001, while still undergoing trials. Ironically, Sensex climbed 77 points on his death, says India Today – almost as a tribute.