13/07/2021
Weather Update: Southwest Monsoon has reached all over India including Delhi
New Delhi: According to the weather forecast bulletin issued by the Indian Meteorological Department today, Southwest Monsoon has advanced into entire India covering all parts of Uttar Pradesh, Punjab, Haryana and Rajasthan including Delhi. The normal time limit for the crossing of Southwest Monsoon across India is 8th July and it covered the entire country on 13th July with a delay of 5 days from the normal time.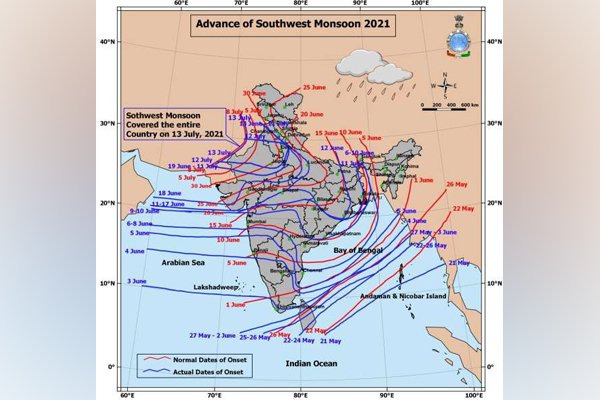 Due to the easterly humid winds coming from the Bay of Bengal, the effect of clouds has increased over the areas of North India for the last 4 days and the scope of rain has also reached more areas.
The Southwest Monsoon usually arrives in the capital Delhi on June 27, while this time it has arrived on July 13, a delay of about 16 days from the normal time.
The time when Monsoon has arrived in the country including Delhi in recent years and what is the normal timing can be seen in Table-1 given below.
The rainfall (in cm) between 8:30 am on 12th July to 8:30 am today i.e. 13th July is as follows:
Safdarjung-2.5, Ayanagar-1.3, Palam-2.4, CHO Lodi Road-0.9, Ridge-1.0, Gurugram-5.1, Faridabad-2.8, Panipat-1.0, Rohtak-2.2, Hisar-3.3, Fatehabad-3.0, Jaisalmer-7.7, Bikaner-6.8 and Churu-9.0 mm.