20/10/2020
The last few years of 'Big Bull' Harshad Mehta's life and how he died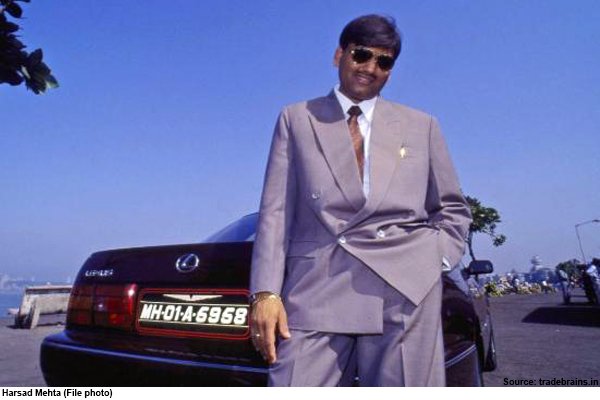 New Delhi: Harshad Mehta, after his stock market exploits came to light, was under criminal custody in Thane prison. Mehta complained of chest pain late at night and was admitted to the Civil Hospital. He died of a brief heart ailment, at the age of 47, on 31 December 2001.
Mehta, who had gained notoriety in the wake of multi-crore securities scam 28 years ago, was arrested by the CBI on November 9 with his brothers, Ashwin and Sudhir, in the case of alleged misappropriation of Rs 250 crore from 27 lakh 'missing' shares of 90 blue chip companies.
On December 21, a special court had rejected their bail plea and remanded them to judicial custody till January 4.
The infamous securities scam made Mehta a household name even for those who had absolutely no inkling about the ways of the stock market.
The scandal may have cost him his place as arguably the biggest and most influential stockbroker in the modern stock market but to the thousands interested in making a career in stock markets, Mehta was god.
Known for his analytical mind, Mehta could smell an opportunity to make a killing. Even in 1996, though already a spent force, his popularity among the youth in Mumbai was stunning. You just had to ask a youngster in Mumbai's Fort area what he wants to be when he grows up. "Harshad Mehta" – would be an instantaneous reply.
But when the stories against him started spilling out in the early '90s, there was panic selling and close to Rs 5,000 crore worth of market capitalisation was eroded. For Harshad, his empire collapsed.
His subsequent arrest by the CBI finally broke his hold on the markets. Harshad made a sensational claim that he had handed over a suitcase of cash to then Prime Minister PV Narasimha Rao. Mehta alleged that he had paid Rao Rs 1 crore to get him off the hook in the case while Rao denied any role in the entire affair. The government subsequently ordered a joint parliamentary committee probe in the case and also set up a special court to try Harshad and his cronies.
Even as the trial was going on, Harshad got involved in yet another manipulation game in 1997. This time, he, according to a Securities and Exchange Board of India charge sheet, was involved in rigging up the prices of three stocks – BPL, Videocon international and Sterlite Industries.
While SEBI and the other government agencies probing the financial market scams were certain about his involvement in these manipulative exercises, Mehta was never really punished for his crimes. His lifestyle – though Spartan in comparison to the flashy days – was comfortable.
Every time, there was a mild flutter in the markets – and this continued till the late '90s – the market grapevine would say "Harshad is back!" Bombay bull Ketan Parekh — architect of the famous rally of 2000 and now implicated for manipulating the markets — was among Harshad's close associates.
Only towards the last few months of his life, the court's decision to freeze his financial assets may have landed him in some difficulties. With Harshad's death, the law enforcing agencies may face a problem in pursuing the securities scam case.
The loss in market capitalisation could not have been ever recoverable from Mehta, but now even a modest recovery from Harshad's personal financial assets could be a problem.
Harshad's son, Atur Mehta grabbed people's attention in 2018 when he bought a significant stake in Fair Deal Filaments, a BSE-listed textile company.
Click following links for more about family and associates of Harshad Mehta.
Here's what Big Bull Harshad Mehta's family is up to these days
Here's what Big Bull Harshad Mehta's son is up to these days
Here's what Big Bull Harshad Mehta's wife is up to these days
Here's what Big Bull Harshad Mehta's heroin Sucheta Dalal is up to these days
Here's what Big Bull Harshad Mehta's brother is up to these days
Bachchan Starrer : The Big Bull is set to be release in early 2021
Scam 1992: Sucheta Dalal role was a turning point for her career: Shreya Dhanwanthary
3 Biggest Scams of Indian stock exchange market